Am vergangenem Samstag war es mal wieder soweit, die TinSoldiers of Antwerp luden zur Crisis ein. Und nach dem äußerst positivem Eindruck im letzten Jahr, war es auch außer Frage, dass wir dieser Einladung folgten.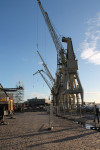 Da man in der alten Lokation, am Metroplex nicht mehr genügend Platz hatte, fand die Crisis dieses Jahr im Hangar 29 Waagnatie im Hafenviertel statt. Zu gegeben, die Parkplatzsituation ist nicht mehr so toll wie im Antwerpener Norden, aber darüber konnte die neue Größe und geräumigen Hallen problemlos hinwegtrösten, wie die folgenden Bilder zeigen.
Auf einer Fläche die der Salute schon sehr nahe kommt, sind nicht nur mehr Händler und mehr Demotische vertreten. Auch quetschen sich die Besucher nicht mehr so einander vorbei und das Gesamtgefühl ist angenehmer.
In Mitten der schieren Auswahl unterschiedlichster Maßstäbe, entdeckt man dann wieder einen Bekannten. Den albanischen ETC-Nationaltrainer beim Kauf neuer Zinnminiaturen für kommende Field of Glory Projekte.
Die Berichterstattung geht in Teil 2 weiter.
Link: TinSoldiers of Antwerp
hat dir dieser Artikel gefallen?