Die letzte Liste ist erneut eine Achsenmacht, Nationalisten des spanischen Bürgerkrieg. Der Fuhrpark ist hier recht leicht, nur unterstützt durchs deutsche Reich, daher gibt es einen Panzer II und ein paar Interwar Panzer. Ich bin noch nicht sicher, welche die passende Armeeliste hierfür ist, ich habe Carlisten, Guardia Civil und ein paar Frühkriegs-Deutsche, daher dachte ich an eine der kleineren Nationen aus dem Italy und die Axies Buch. Alternativ eine stark eingeschränkte Frühkriegsliste aus dem deutschen Quellenband. Der Kern der Truppe machen die Carlisten aus, radikale Katholiken, welche im spanischen Bürgerkrieg auf Seiten der Nationalisten kämpften. Gedanke hinter der Truppe, ist eine kleine Armee, welche aus dem Norden Spaniens agiert und sich um das Retten und Erbeuten von Reliquien kümmert. Die meisten Miniaturen stammen von Empress Miniatures. Ergänzt durch die Inquisitionsmodelle von Victoria Miniatures, denn niemand erwartet die spanische Inquisition. Die Spanier werden nach dem "Armies of Germany" Band eingesetzt. Der Trupp Carlisten, welche wohl als Early War Waffen-SS eingesetzt werden, wegen dem Zugriff auf Fanatics, wird unterstützt durch 2 Trupps Guardia Civil (als Volksgrenadiere wegen der gemischten Qualität), einen Trupp spanischer Soldaten mit deutscher Ausrüstung (Heer Infanterie), sowie 2 Trupps marokkanischer Söldner (evtl. Osttruppen oder Volksgrenadiere). Einen kleinen Fuhrpark gibt es natürlich auch, einen Hispano Suiza MC-36 von Minairon Miniatures, sowie Panzer II und BA-6 AC von Warlord Games.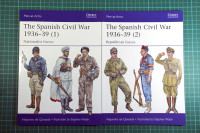 Spanish Civil War / List from Italy and Axies or Early War German List? Panzer II Some Copplestone interwar tanks
Marokkanische Söldner Guarda Civil Carlisten Legion Condor / spanisches Militär in deutscher Uniform / Blaue Division HQ Spanish Inquisition (First Lieutenant, Veteran) +2 Vet, 3x SMG - 116 Pts Padre "Médico" (Medic) + 1 Vet, - 38 Pts Padre "Salvatore" (AFO) + 1 Reg, - 110 Pts Infantry 10 Carlist Squad (Waffen-SS Squad Early War) 2x SMG, Fanatics - 169 Pts 10 Gardia Civil (Volksgrenadiere) 2x SMG - 111 Pts 10 Gardia Civil (Volksgrenadiere) 2x SMG - 111 Pts 10 Nationalist Soldiers in German Equipment (Heer Infantry) 1x SMG, 1x LMG - 123 Pts 10 Moroccan Mercenaries (Osttruppen) 1x SMG, 1x LMG - 63 Pts 10 Moroccan Mercenaries (Osttruppen) 1x SMG, 1x LMG - 63 Pts 5 Moroccan Mercenaries (Volkssturm) 1x SMG - 38 Pts Don Quijote and Sancho Panza (Motorcycle with Sidecar) vet - 48 Pts Carros de Combate Panzer II A reg - 105 Pts Captured BA-6 (BA-10 due to lack of own rules) inexp - 96 Pts Hispano Suiza MC-36 (Maybe as BA-10) reg - 120 Pts Total : 1311 Pts Panzer entweder Grau (Wehrmacht), Grün (Russische / Republikanische Beutefahrzeuge) oder Camo (Grün, Beige, wenig Braun). Spanische Flagge und St. Andreas Kreuz zur FOE Identifikation. Aktuell verfügt die Truppe über einen Panzer II, einen Hispano Suiza MC-36 und einen BA-6. Mögliche Erweiterungen wären ein CV33, ein IZ AC, ein T-26 sowie ein Panzer Ia.