Am ersten Wochenende fanden die deutschen Meisterschaften in Field of Glory statt. Da Field of Glory gerade hier in der Gegend stark vertreten ist (und nicht nur in Field of Glory, auch Warmachine, die Gegend stellt in beiden Systemen den deutschen Meister), wurde das Turnier auf einer Burg in der Nähe ausgetragen, der Marksburg.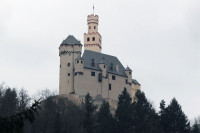 Die Atmosphäre ist einfach stimmig. Ein historischer Tabletopevent auf einer Burg. Die Räumlichkeiten werden üblicherweise für Hochzeiten oder ähnliche Veranstaltungen gebucht, aber die deutschen Meisterschaften passen einfach super rein. Mir gefällt Field of Glory ungemein, und ich schätze die Turnierfähigkeit des Systems, da dies doch nicht so selbstverständlich ist.
Es gab sogar einen kleinen Bring & Buy und unter einer Vielzahl an 15mm Miniaturen gab es zwei kleine Schätze aus der klassischen Blood Bowl Range die ich einfach kaufen musste. An der Stelle nochmal vielen Dank an Bodo für die Miniaturen!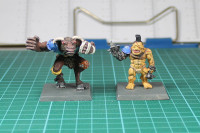 Um es zusammen zu fassen, tolle Veranstaltung, toller Veranstaltungsort. Ich freue mich wirklich auf die Weltmeisterschaft im nächsten Jahr, die ... *trommelwirbel* in Koblenz ausgetragen wird, mit großem Nebenprogramm. Und ich hoffe wir können in der Zwischenzeit noch das eine oder andere auf der Burg veranstalten ...
hat dir dieser Artikel gefallen?