Das Lied von Eis und Feuer geht auf HBO weiter und eröffnet so die finale Staffel von Game of Thrones. Eine gute Gelegenheit noch mal in meine eigene Geschichte in Westeros hineinzublicken.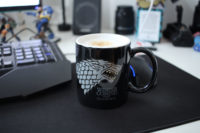 Es gibt zwei unglaublich gut gemachte Projekte zu A Song of Ice and Fire in 28mm. Eines von dem sehr begabten Capt. Blood im Lead Adventure Forum und das andere vom großartigen Don Voss im Sweetwater (hier der Lead Adventure Link, da der Thread den Umzug nicht überstanden hat). Es gibt auch eine Liste von SoIaF/GoT Projekten auf Lead Adventure.
Mit den letzten beiden Monaten dieses Jahres vor der Tür, wird die Planung für den Jahreswechsel notwendig. Eine der nächsten Veranstaltungen auf meiner Terminliste ist die Crisis, wie ich hier bereits angekündigt hatte - Crisis 2017 Vorschau.
Üblicherweise bereite ich einen Adventskalender für Dezember vor, aber ich möchte das in diesem Jahr etwas anders handhaben. Ich würde lieber "Themenwochen" machen, aber dafür an den Adventssonntagen ein paar besondere Themen beleuchten. Was stelle ich mir vor? Nun, das "Reviewprogramm" hat noch ein paar Sachen auf der Liste, die ich noch fertigstellen möchte. Euch dürfte der Weltkriegsfokus bei vielen Themen schon bekannt seni, weshalb ihr euch auf einige Fahrzeugbausätze aus Resin und Plastik einstellen könnt, sowie ein paar passende Infanteriebausätze.