Auf die Rückfrage ob die Backdrops reflektieren. Es kommt auf den Winkel an, hier mal ein schnelles Bild ohne Stativ.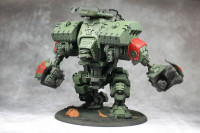 Zu dem wurden ein paar Hasslefree Miniaturen gebased. Es ist einfach Hammer was Kevin knetet. Tolle Modelle, beeindruckende Gussqualität und sehr fairer Preis.
Weniger begeisternd waren dann die Sci-Fi Plastiksets von Wargames Factory und Defiance Games. Der Guss ist insgesamt eher verwaschen, die Passgenaugkeit könnte besser sein. Kein Vergleich zum Original von GW. Nicht im Bild ist die Dreamforge Alternative, die könnte wirklich gefährlich werden.
Ansonsten merke ich noch die nachwehen des Steam Summersale. Ein paar gute Spieletitel gesichert, darunter Borderlands 2, GRID und Rage. Teilweise auch zur Anregung für den Geländebau.
Bei ein paar Spielen, wie bspw. The Walking Dead kann ich auch die Walkthroughs auf YouTube empfehlen (vor allem Gold Glove). Wer eine PS 3 besitzt sollte sich definitiv The Last of Us besorgen, imposante und mitreißende Handlung, wirklich fesselnd aufgebaut. Wer keine Playstation hat, kann sich dazu ein Lets Play ebenfalls auf YouTube anschauen.
hat dir dieser Artikel gefallen?