Ich habe mir ein Abo der digitalen Ausgabe von Wargames Illustrated gegönnt, da deren jüngstes Angebot einfach zu gut war um es auszuschlagen. Ein komplettes Jahr WI Ausgaben und dazu eine Warlord Games Plastikbox für zusammen 60 Euro. Die Wahl fiel auf die ganz neuen Grenadiere (Review folgt demnächst).
Es ist ein wirklich guter Bausatz mit zahlreichen Optionen. Ich habe ein paar Teile der anderen deutschen Bausätze hinzugefügt (wie der Blitzkrieg Infanterie) und sie so zusammengebaut, wie der Army Deal es empfieht. Tolle und scharfe Details, guter Guss. Kein Grund zur Beschwerde.
10 man squad of regular German Grenadiers (2x SMG, 1x LMG, 4x panzerfaust).
10 man squad of Veteran German Grenadiers* (10x Assault rifles, 4x panzerfaust).
10 man squad of Veteran German Grenadiers* (2x LMG, 3x SMG, 2x panzerfaust).
Zusätzlich gab es bei Osprey vor ein paar Wochen einen 30% Rabatt auf bestimmte Produktreihen. Ich habe mich dort mit den beiden neuen Men-at-Arms Bänden zum spanischen Bürgerkrieg eingedeckt und dem heruntergesetzten dark Osprey Buch über die Tempelritter. Wer sich für den spanischen Bürgerkrieg interessiert, sollte sich die Empress Miniaturen ansehen.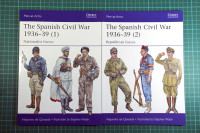 Okay, soweit der letzte Tag des verlängerten Wochenendes, ich war fleißig im Chaosbunker, erwartet also ein paar weitere Updates in den kommenden Tagen.
hat dir dieser Artikel gefallen?