Zu meiner Sammlung gehörte auch ein stattlicher Posten an Warhammer Fantasy Imperiums Miniaturen. Insgesamt um die 22.000 Punkte und war entsprechend involviert und dem Thema verbunden. Mir haben die Quellen wie das Warhammer Rollenspiel Quellenband Sigmars Erben oder Black Library Bücher wie Uniforms & Heraldry of the Empire oder Blood on the Reik.
Daher hatte ich für meine Carroburg Armee einige Banner gebaut und wurde von anderen Spielern und Imperiums-Fans gefragt, wie ich diese Banner gestaltet hatte. Aus dem Grund hatte ich damals Vorlagen und ein paar Graphiken erstellt, mit denen man sich selbst Banner basteln konnte.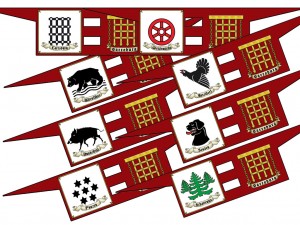 Ich habe ein paar vorkolorierte und blanke Banner hier, ebenso einige Wappen und Heraldik um diese damit zu verzieren. Alles ist als vektorbasierte PDFs hochgeladen, so dass ihr diese entsprechend skalieren könnt ohne Qualitätsverlust.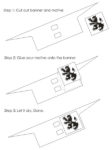 Hier sind die Banner in unterschiedlichen Größen und Farben.
Download: Oldhammer Banners Unicolour PDF
Download: Oldhammer Banners Duocolour PDF
Und dann natürlich die Wappen und Heraldik.

Download: Oldhammer Banner - Coat of Arms PDF
Ich habe noch weitere Dateien hier, wie z.B. die Carroburg Banner die ihr oben gesehen habt, aber da müsste ich erst einmal die Photoshop Dateien aufräumen, damit diese auch für andere bedienbar und nützlich sind. Wenn das erledigt ist, werde ich die Dateien in einem eigenen Beitrag zur Verfügung stellen, als kostenloser Download.
Zur Verwendung der Dateien. Verwendet sie nach eurem Gusto, solange es nicht kommerziell ist. Packt sie nicht hinter eine Paywall, behauptet nicht sie sind eure oder missbraucht sie für anderen Unsinn - sonst sollt ihr nur noch Einsen würfeln bis ihr umfallt.
hat dir dieser Artikel gefallen?