Hut ab vor diesem spanischen Künstler. Heresy Brush, von dem ich ein regelmäßiger Leser bin, hat ein weiteres PaintingWar Buch veröffentlicht, diesmal über den spanischen Bürgerkrieg.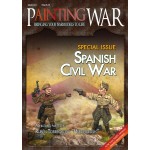 Once again I am pretty happy to announce a new book: PaintingWAR: Spanish Civil War. Thanks to the Editor, Quino, and the co-workers (Rafa, Pepe, Nacho and so on) for this new oportunity. If you don't know the line of books PaintingWAR from Proyecto Cruz, you are missing a very nice source of information. There are foor published books so far, every one focused on an army and war time (WWII and Napolonic Wars at the moment). I have the honor to sign the fifth book of the series, centred on the Spanish Civil War, and covering both the Nationalist and Republican armies.
Wenn man sich bereits einen Vorgeschmack schaffen möchte, was einen erwartet, es gibt einen YouTube channel mit Videotutorials. Und zahlreiche weitere kostenlose Tutorials hier: Heresy Brush Guides. Die Inhalte sind gemischt im 15 und 28mm Maßstab.
Das Buch ist bereits erhältlich in spanischer Sprache für 18 Euro, und wird auch noch in englischer Sprache erscheinen für etwa 20 Euro. Ich freue mich wirklich auf das Buch, da es in Kombination mit den passenden Ospreybänden, eine solide Grundlage für mein Projekt bieten dürfte.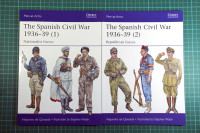 Wer nach weiterem Inhalt zum Spanischen Bürgerkrieg sucht, sollte bei Analogue Hobbies reinschauen, die ich in einem der Pinterest Beiträgen bereits vorgestellt habe.
Link: Heresy Brush
hat dir dieser Artikel gefallen?